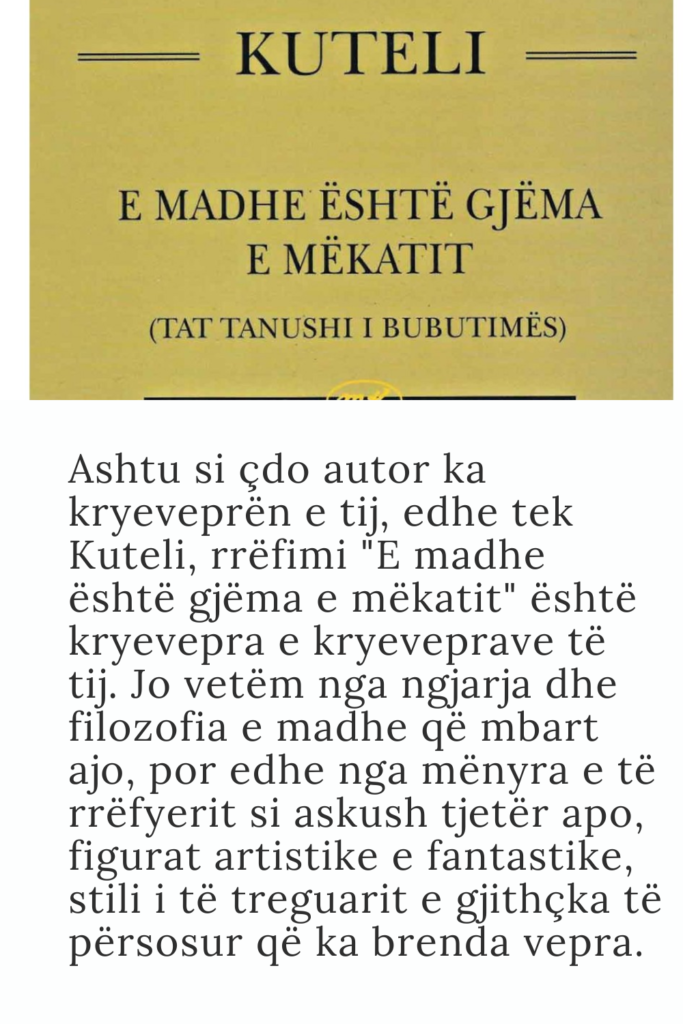 E madhe është gjëma e mëkatit (Tat Tanushi i Bubullimës), Kuteli
Lexo ketu

Comment by Nadire Buzo
Just as every author has his masterpiece, also in Kuteli, the story "Great is the horror of sin" is the masterpiece of his masterpieces. Not only from the event and the great philosophy that it carries, but also from the way of narrating like no other or, the artistic and fantastic figures, the style of telling and everything perfect that is inside the work.
The work has three titles: 1- "The Great Thing of Sin",- 2- "Tat Tanushi", 3- "Confessions From the Blue Liquor". The three titles have nothing to do with the time of publication, since the work was published after half a century, and only with the first title. In the manuscripts, works and reworks of the work, it is sometimes titled with one title, sometimes with another. The second title "Tan Tanushi" is pleasant, as it immediately introduces you to the event and the story of what happens to this handsome Illyrian, who only fell in love foolishly, knowing that eternally great loves are destined to die.
So it's a title that would suit the work and the way it's written more. While the third title "Stories From the Blue Lake" is broad, it relates to the stories previously told by the inhabitants of the lake, with which almost all the stories of Kuteli are interwoven. The first title, which makes you as curious to read it as scares you, thinking that this world is completely sinful, before the scriptures of the gospel and faith in God, so there is no way not to feel sinful before them . But still, the titles do not change anything in the content and the great message of the work. Kuteli has written it with such skill and perfect artistic fantasy that you wish you were inside this "big thing" of this "sin".
Burimi : google search