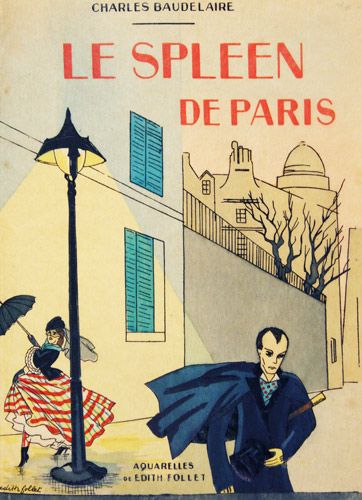 Charles Baudelaire Brenga e Parisit

Charles Baudelaire (Sharle Bodler) was born on April 9, 1821 in Paris and died on August 31, 1867, was a poet, had a son named Jorges Pupla the famous French critic and translator.
, after the death of her husband, married a colonel who being very harsh incited and provoked the hatred of his son. His relationship with his mother was not very good and this factor caused him the existential crisis that accompanied him for life.
In 1833 his stepfather enrolled him in the "Royal College". His behavior was not the best so the angry stepfather forced him to go to India. This trip influenced Sharli for good, introduced him to different cultures and people. From here was born his love for exoticism, which is best seen in his masterpiece "Flowers of Evil." However, 10 months later he returned to Paris and since he was an adult he received his share of the wealth of the father.
In 1842, he met the poets Gerard de Nerval, and Gautier; with the latter he came very close because moreover he looked at him as an artistic and moral leader. During this time he met Jeanne Duval, with whom he had a very passionate relationship. Unlike usual, their relationship lasted for a long time. Charles found inspiration in Jeanne who stayed close to him until the last day of his life.
While the life Baudelaire lived in Paris was no matter what. When his mother found out that he had spent half of the inheritance, he sued. The court appointed an administrator to whom Baudelaire had to ask for money for whatever he needed.
In 1845 he published his first creations, while to earn some more money he started working in several magazines such as: "L'Art romantique" and "Curiosite estetik".
In 1848 he took part in the revolutionary movements in Paris, while in 1857, he published in the publishing house Pule-Malassiz his masterpiece "Flowers of Evil", which contains about 100 poems. The book is judged immoral, while the publisher is forced to censor some of the poems.
Baudelaire fell into deep depression. In 1861 he attempted suicide. In 1864, after not being accepted by the Fronsez Academy, he left Paris to go to Brussels, but his stay in the Belgian capital did not change his views on the bourgeoisie.
Sick, he sought tranquility from hashish, opium and alcohol. After a paralysis that locked him in bed for several years he died at the age of 44. His remains are buried in Montparnasse Cemetery, along with those of his mother and stepfather. In 1949 the Court of Cassation of France ruled that his work and life should have a deserved place on the pedestal of French culture.