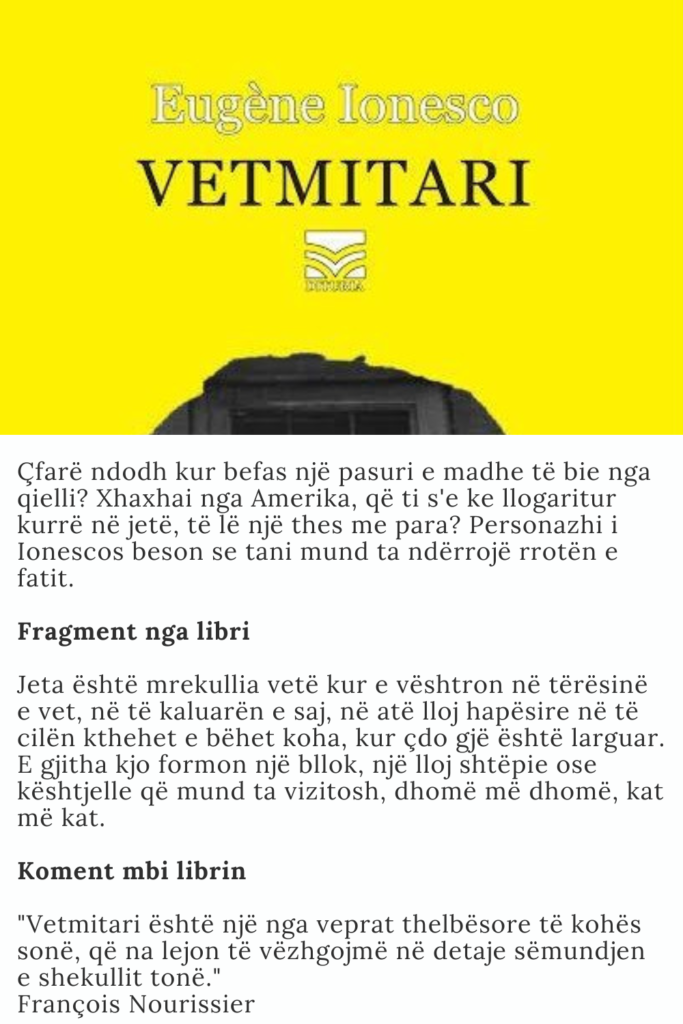 Vetmitari , Eugene Ionesco
Lexo ketu

On the book
What happens when suddenly a great fortune falls from the sky? The uncle from America, who you have never counted in your life, leaves you a bag of money? Ionesco's character believes that he can now change the wheel of fortune.
Stop working! Stop other worries of everyday life! Let's sit at the window and see how the lives of those unfortunates who don't have this uncle's fate! The disease of loneliness! Read this book and work and all other problems will seem like an unbridled fun!
Excerpt from the book
Life is the miracle itself when you look at it in its totality, in its past, in that kind of space in which time turns and becomes, when everything is gone. All this forms a block, a kind of house or castle that you can visit, room by room, floor by floor.
Comment on the book
"The Hermit is one of the essential works of our time, allowing us to observe in detail the disease of our century."
Francois Nourissier
Burimi | https://www.scribd.com/document/368064125/vetmitari-eugene-inosco-pdf