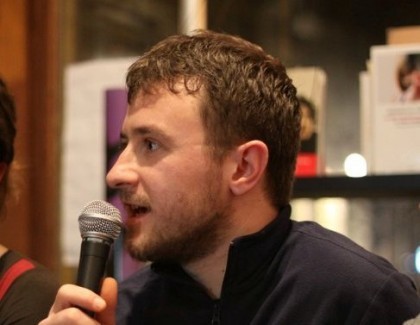 Darien Levani Vrasesi i qymyrit

Make a double coffee. I smoke it with three cigarettes.
I browse yesterday's newspapers. A Hollywood actor is married to a Hollywood actress. And they call this news to me.
I have to distract myself from something. Grab the crossword puzzle. I fill it in until I realize that it is wrong, they put it in vain in some boxes and to fill it I have to write on the table. They should have called it the word table.
I want to turn on the TV but the remote control is far away so leave it at all.
The newspaper also has a sudoku but I do not know how it is done and in principle I do not want to learn it. Since the boxes are ready I play with myself and win several times in a row.
Then the Undisputed Champion of Yçi raises his eyes from the painting on the wall and looks at him carefully. I light another cigarette. Those in the painting are don Quixote and Sancho Pancho. I do not believe that with such a painting we give the impression of a serious office, I would never turn to a detective who has Don Quixote on the wall. Not a very good example.
Sometimes I talk to him when he is not Olti. I do not want him to think that I am completely slipping. "Eh dono, you's fine oh what are we going to do!"
He does not say. Normally, it is painting. You see me surprised. Sanço Panço does not even hang on to me at all, he turns his head from the other side and pretends not to look. He catches it again with don Quixote.
"What do you have, why boss? Wow, do you have anything? Go fight with the mill and leave me alone."
I'm drowsy and my head hurts. I slept a little because I slept on an uncomfortable sofa and I have been asleep since five in the morning. I have drunk two double coffees so far and have tried to sleep three times. Nothing. Headache deprives me of sleep, insomnia adds to my headache.
I hear the front door open and I tell don Quixote that we will talk again, it does not end here.
"Find." Olti greets. He is cool, he has slept well.
"Find a heck. It's 11:30." I answer angrily. Then check the clock to be safer. "Even though I was 12 without a quarter. Where did you spruce me up?"
Olti turns his head for a second and looks me in the eye. Understands everything. He understands that I'm nervous and looking for a reason to be busy. Then take a look at the room as if to focus on something else: a table with a few chairs by the window, a worn sofa leaning against the wall and in front of two armchairs, a TV and dozens of newspapers scattered on tables, chairs, TVs and floors . It's a real mess but we agreed that 1) we like it that way 2) whoever complains is automatically forced to fix it themselves. Then he turns his eyes away from me. Looks like a 35 year old … okay, a little over 35 years old but damn it, he doesn't know. Unshaven and with a cigarette in his right hand. A shirt that was once clean and ironed, blue jeans a bit torn – a symbol of seriousness and ambition, Elvira would be ridiculed as if she were here but she is not here because I do not see her – and uncoated boots. Above all you see the eyes. They must be red and swollen as he looks at me with an disapproving look as he sits down.