Libra Shqip
Chronicle of an Announced Death Gabriel Garcia Marquez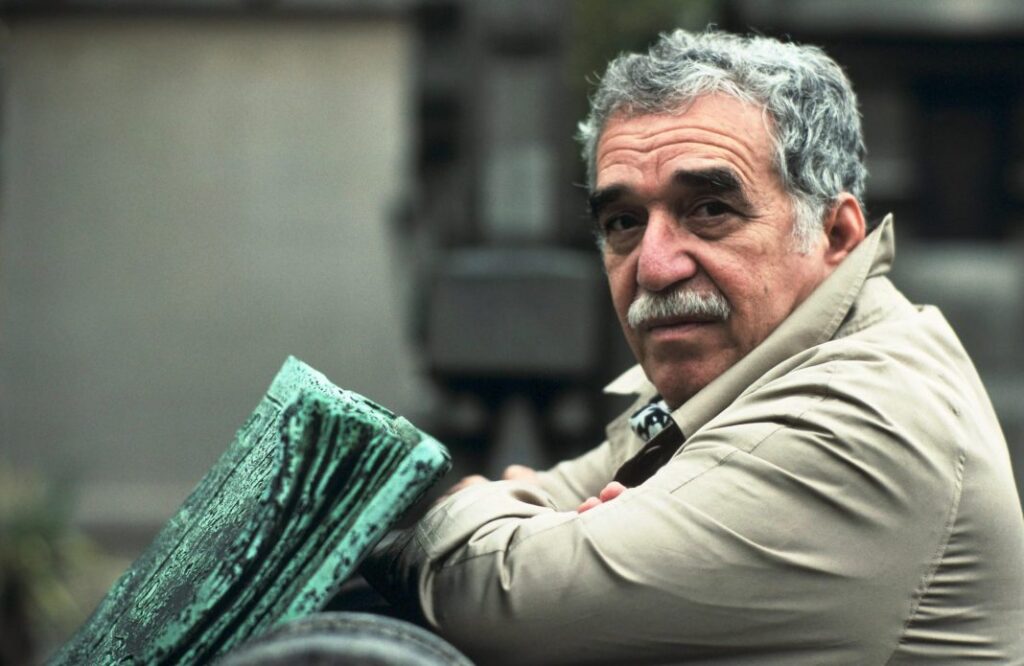 Kronikë e një Vdekjeje të Paralajmëruar-Gabriel Garsia Markez

Gabriel García Márquez (Gabriel Garcia Marquez also known as Gabo), the famous Colombian writer was born on March 6, 1927 in Aracataca, a small village near the Colombian Caribbean mountains and died on April 17, 2014. He was the son of Gabriel Eligio García and Luisa Santiaga Márquez Iguarán.
In that period the United Fruit company failed, which until then had kept the economy in the region at a fairly good level through banana cultivation. As in any family in that province, Márquez's financial situation was deteriorating, so Gabrile and her parents moved to his grandparents' house in Riohacha.
The first eight years of the Marquis's life passed quietly, filled with the magical stories of Grandma Tranquilina Iguarán and the epic tales of Grandpa Nicolás Ricardo Márquez Mehija, in whose house he heard the story of the banana plantation massacre, in which over 100 people were killed. , who were then buried in a mass grave. From the mouth of his grandfather he heard the extraordinary deeds of General Rafael Uribe Uribe, the absolute protagonist of the Thousand Day War (1899-1902), one of the heaviest and bloodiest events in the history of Colombia.
In 1935 he lost his grandfather and this event greatly affected the mood of 12-year-old Márquez, who a year later went to Barrankija to study at the San Hosé school. In 1942 he moved to Zipaquirá to finish high school. At the age of 20 he gained the right to study at the University of Bogotá, branch of law. Upset by the accelerated life of the Colombian capital and by the cold of the Andean province, Gabriel locked himself in his room where he read the masterpieces of great Latin and Spanish-speaking authors. Fascinated by literature, he began writing by dropping out of studies.
Despite his great passion for books Márquez was one of those who suffered the situation in Colombia which was going through a period where violence was always present. On April 9, 1948, the famous El Bogotazo began, known as the trio of violence in the capital, which ended with the death of liberal leader Jorge Eliecer Gaitán. During those bloody days some people broke into his apartment and burned everything. Márquez decided to go to Cartagena where he found work as an editor and later as a reporter for the newspaper "El Universal".
In 1949 he decided to return to Barrankija, where he began working as a journalist and joined the "El Gruppo de Barranquilla", which consisted of young people who had a passion for literature. A year later he published a story entitled "La tercera resignación" in the pages of Santa Fés newspaper "El Espectador". In 1952, he finished writing his first novel, "La hojarasca" (translated into Albanian as Leaves), the manuscript of which he sent to Argentina. After three weeks in the answer that came to him it was written that he could deal with anything except literature.
In 1955 he won first prize in a competition, where he competed with the story "Un día después del sábado" (The day after Saturday). Thanks to his narrative talents, García Márquez in a fairly short span of time became one of the most important names in Colombian journalism. His interviews, articles and opinions were welcome in any newsroom. All of his work until 1956 was published as a single book entitled "Relato de un náufrago", which shook the political scene in the country as it dealt with drug trafficking by sea. Marquez's attitude towards this phenomenon found popular approval, but badly provoked politicians. In November 1956 the director of the newspaper "El Espectador", for which Marquez worked, received orders from some government officials to dismiss the writer. Out of close friendship and great respect, the director decided to send him to Switzerland, where he would work as a reporter for his newspaper. Even after the bankruptcy that occurred a year later, Marquez decided to stay in Switzerland. During his life in Europe, he visited many famous cities of the old continent together with his friend Plinio Apuleyo Mendoza. The trip in question served as inspiration for writing "90 días en la cortina de hierro". In 1958, after a stay in London, García Márquez returned to America, to later settle in Venezuela.
In Barrankija, he married Mercedes Barca, with whom he had two children, Rodrigo (born in Bogotá in 1959) and Gonzalo (born in Mexico in 1962). In 1961 he moved to New York where he began working as a correspondent for Prensa Latina. The constant threats from the CIA and the Cubans pushed him to transfer to Mexico. In 1967 he realized the masterpiece of his work "Cien años de soledad" (translated into Albanian as One Hundred Years of Solitude), a book that marks the culmination of the so-called magical realism. In 1974, "Ojos de perro azul" and "El otono del patriarca" (Autumn of the patriarch) were released, the two most complex works of his work, a broad metaphor for loneliness, misery as a result of enrichment.