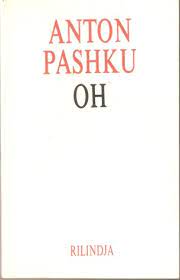 Oh, Anton Pashku
Lexo ketu

The name and work of Anton Pashku are associated with the safe path of modern Albanian literature. During the 1950s, prose, with its hallmark of post-war enthusiasm, was on the verge of literary and documentary writing. and extreme.
At that time, therefore, his work had very few readers and many deniers. However, unlike the great creators, he will continue his path to the end, convinced and aware of his creative possibilities. Anton Pashku was born in Has i Thatë of Prizren. He was educated in Prizren and Prishtina. Until his death he worked as an editor in the newspaper "Rilindja". He is the author of several volumes of short stories: Stories (1961), A Part of the Birth (1965), The Tower (1968), Kjasina (1973), Evening Prayers (1978).
He has written two plays: Sinkopa (1969), Gof, 1976 and the novel Oh (1971). artistically, his work took place at the top of the national literary pantheon. But what did Anton Pashku write about and how did he write, when he was not yet in his twenties? To answer this question, we are bringing two (poetic) stories, which together can only be included within one page of the book. It is about the stories "In the Storm" and "The Scream", both published in 1957.