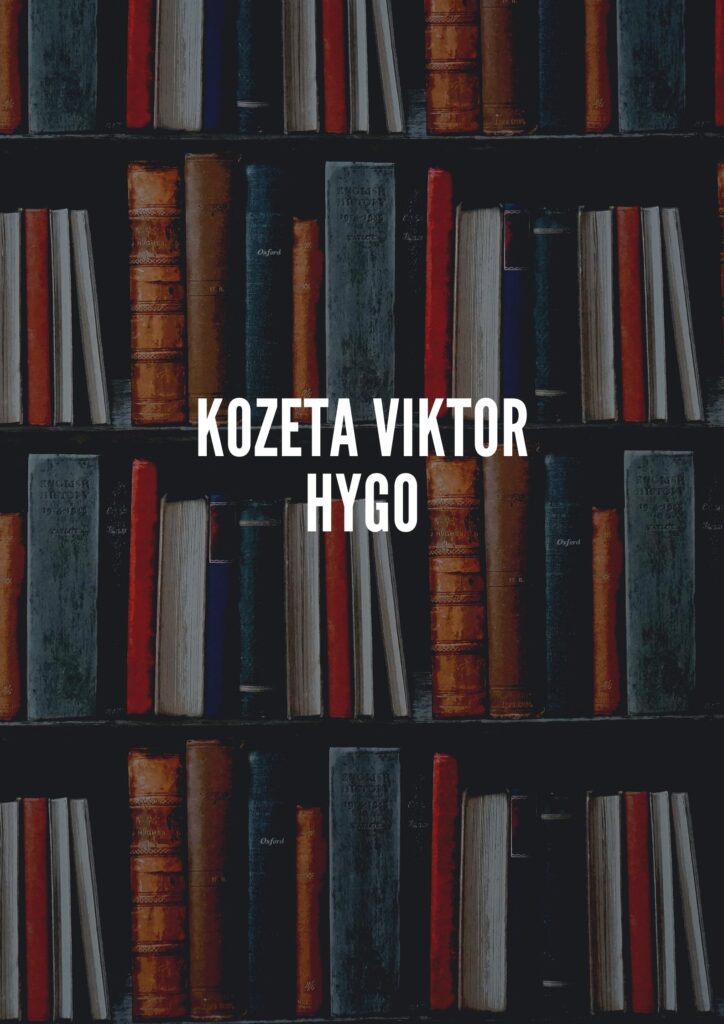 Kozeta Viktor Hygo

Victor Marie Hugo (pronounced: Victor Hygo) was born in Besançon on February 26, 1802, was a French playwright, poet and writer, considered the father of Romanticism and a dominant figure in nineteenth-century French literature.
Hygoi was born in Besançon, France on February 26, 1802. He died on May 22, 1885. He spent the first years of his life in many different places forced by his family because of the work of his father who was a general in the active Napoleonic campaigns after 3 years in Corsica; 2 in Paris and a few years in Southern Italy he started school in Spain and later continued in Paris.
His first publication was a volume of "Odette" which he published only when he was 20 years old, a work under the influence of the classical school. Romanticism had already begun to spread in French literature, where Hygoi based on this published the second part of "Odet". During 1831 and 1841 he wrote many works which greatly enhanced his reputation, and less of these achievements he became a member of the French academy at the age of 39 years. The novels "Notre Dame de Paris" and the dramas "Lucrece Borgiaa", "Marie Tudor" and "Le roi s´amusë" from which Verdi took the subject for his opera Rigo, were a great success.
During the years 1841-1851 Hygo wrote little, and engaged in politics, initially as a supporter of Louis Philippe's monarchy with ardent Napoleonic ideas. He later appeared and supported Louis Napoleon as president, but did not support Napoleon III, and this cost him his expulsion from France. However, the years of exile were very fruitful, during this time he wrote the novel "The Miserables" which made him known outside France "Sea Workers", "The Laughing Man" etc.
With the fall of the empire Hygoi returned to Paris and made an unsuccessful attempt partly in the political part of France. He spent the following years until his death in Paris. In 1881 he was appointed permanent senator. He died May 22, 1885 and was buried with a magnificent ceremony in Paris.
Victor Hygo is considered the honor of French literature and has reached its peaks. He was regarded in the first place as a poet, but even here he broke the main, essential rules on which the French literature of that time was based. His epic style and lyricism are unattainable. He will always remain one of the brightest and most glorious writers of France.
Outside France Victor Hugo is best known for his entirely romantic prose, he loved the antithesis, and this led him to exaggerate and create grotesque cartoons. His creations are vivid and very striking, often times his novels are with technical details and exaggerated descriptions. Victor Hugo lacked a sense of proportion, and this is evident in his exaggerated ideas, as well as his lack of humor in all his works (approximately). In this respect he was never a leader in politics. List one of the writers to touch your soul when you read his works.
He knew how to stay away from the melancholy and lonely models that characterized the poets of the time, knowing how to accept the not always happy vicissitudes of his life to make them essential experiences and to collect the values ​​and shades of the human soul.
His writings forgot to cover all literary genres, from lyricism, to tragedy, to customs, to political satire, to historical and social novels, arousing consensus throughout Europe.