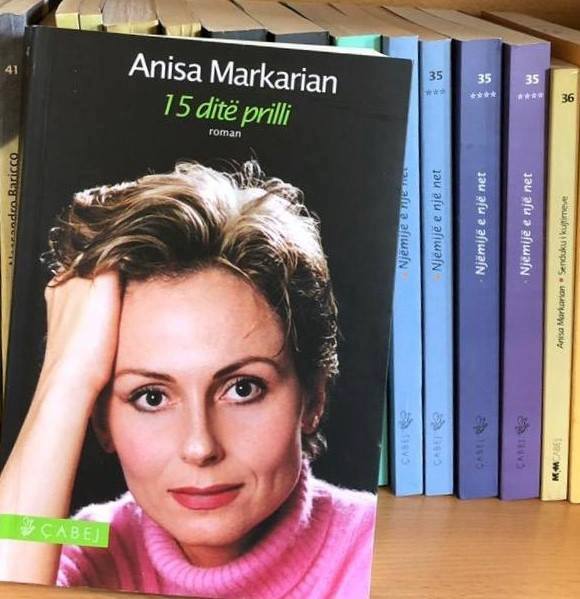 Markarian Anisa – 15 ditë prilli

Constellations 47 Conscious that, thanks to its dual origins, I have inherited a separate historical, spiritual, and cultural experience, I have experienced the desire to narrate "my age" as an inner need not to lose my roots. "15 Days of April" is not an autobiographical book. And yet … I am a medical student who learned anatomy on the bodies of shot boys; I am the citizen who faced infidelity and absurdity; I am the loving resident of the bunker town; I am the intellectual asphyxiated by ideological despotism; I am the artist convicted of dream evasion … Push the gate without fear.
ANISA MARKARIAN was born in Tirana on July 4, 1962, the daughter of an Albanian mother and an Armenian father, who survived the massacres of the Ottoman genocide and chose Albania as a second homeland. Despite her inclinations for art, especially for literature and cinematography, she studied medicine and worked as an anesthesiologist-resuscitator at Hospital No. 2 of the capital until 1991, when he emigrated to France.
He has been expressing his creativity in literature and cinematography since his early youth.
Some of her first stories were published in the volumes Stina e gonxheve (selection of prose by young authors, Sh. B. Naim Frasheri, 1990) and Jete të other (anthology of works by medical authors, Neraida 2001). In 1999 he published his first book, The Box of Memories, a collection of stories (Botime Cabej).
At the age of 16 she plays the role of Dhurata in the film Girls with Red Ribbons, two years later she won the cup of the 4th Albanian Artistic Film Festival as the best actress in a leading female role (the role of Zana in the film Nealo stine). In the two films that followed, Spring Did Not Come Alone (1988) and Colors of Age (1990) she is the screenwriter and performer of the main character.
The novel 15 Days of April is her second book.
Anisa Markarian lives and works in France as an emergency physician and lecturer in dietetics – nutrition.
Artistically it is expressed only in its mother tongue, in Albanian.