Libra Shqip
The Mystery of the Blue Train by Agatha Christie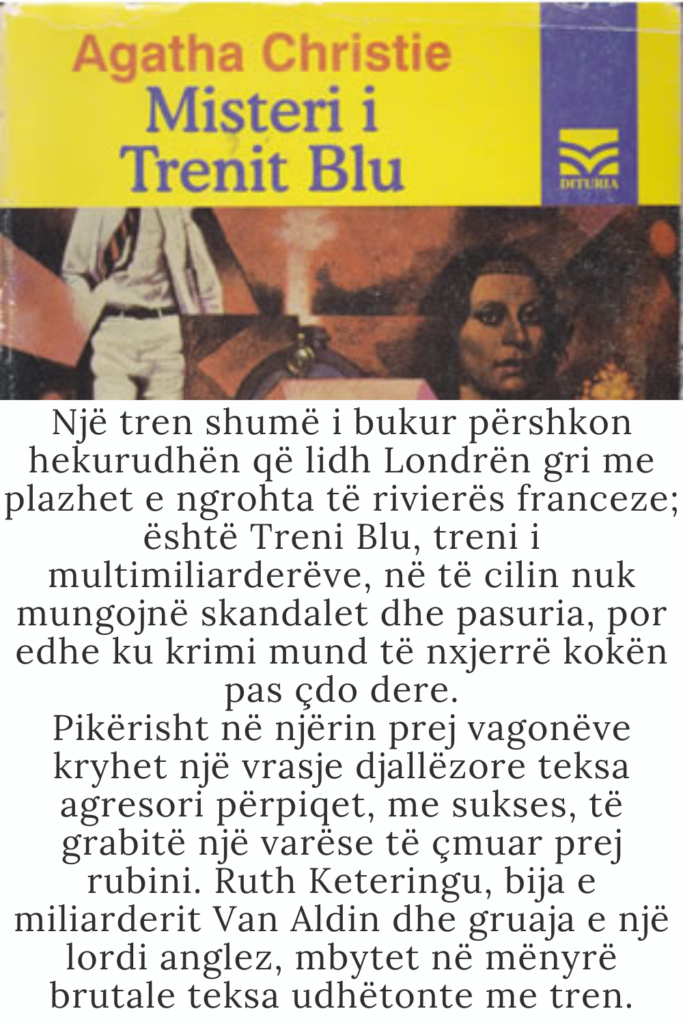 Misteri i trenit blu nga Agatha Christie
Kliko ketu per te lexuar librin

A very beautiful train traverses the railway connecting gray London with the warm beaches of the French Riviera; it is the Blue Train, the train of multibillionaires, in which there is no shortage of scandals and wealth, but also where crime can poke its head out from behind every door.
It is in one of the wagons that a fiendish murder is committed as the aggressor tries, successfully, to steal a precious ruby ​​pendant. Ruth Kettering, the daughter of the billionaire Van Aldin and the wife of an English lord, is brutally drowned while traveling by train.
Her precious pendant, which she guarded like the eyes of her forehead, suddenly disappears and with it, without any motive, her maid as well. The crime deeply shocks the family of the deceased and puts pressure on the French police to find and arrest the culprit.
Fortunately, on the train is Hercule Poirot, the slightly eccentric detective with a fine sense of smell. Poirot agrees to be involved in the investigation and thus goes in search of the diabolical killer, bringing to light an extraordinary, highly improbable intrigue.