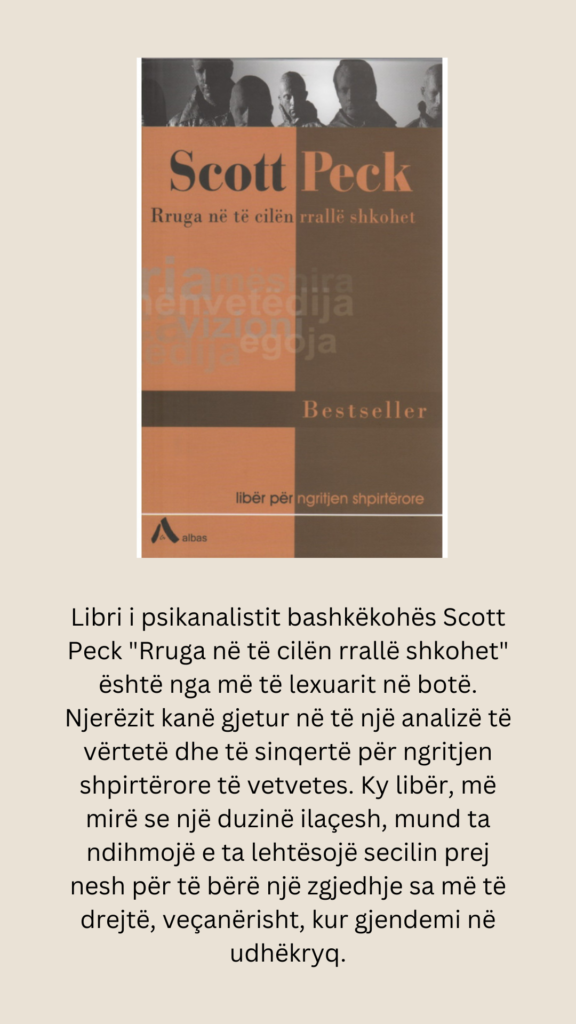 Rruga në të cilën rrallë shkohet, Scott Peck
Lexo ketu

Contemporary psychoanalyst Scott Peck's book "The Road Less Traveled" is one of the most widely read in the world. People have found in it a true and honest analysis for the spiritual upliftment of oneself. This book, better than a dozen medicines, can help and facilitate each of us to make the right choice, especially when we find ourselves at a crossroads.
Before preparing the book, my colleagues and I thought that this publication would be especially valuable for the Albanian reader, who has never had the opportunity and the culture to seek therapeutic treatment.
The author tries to be as objective and correct as possible in the treatment of big topics such as Love or Pain, which he focuses not only in the light of psychological science, but also enters into philosophical, sociological, theological and even poetic treatments, fusing them all this in the life experience of himself and the circle where he lives.
The very title of the book is as suggestive as it is enticing; he invites you to a path, which is really rarely taken, but with the support, support, sincerity and love offered by this contemporary author, he can make the reader suddenly become a participant in the path of his own spiritual ascent. .
For Scott Peck, but also for other people who think and live like him, Love and Work are the most sacred things and the only guides, which lead to the path of achieving the happiness of oneself and others.
More than anything, Love pushed me to take the path of the translator for the first time and publish this work known in many countries of the world in the Albanian language.